15 recipes for delicious dishes that are prepared in a regular mug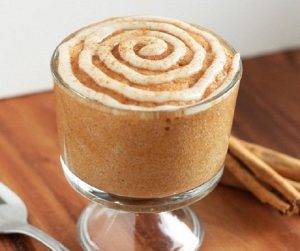 Cooking takes a lot of time and requires at least minimal culinary skills, but we can please you, because there are simple recipes for food in mugs. A few minutes – and everything is ready.
Many people complain that they simply do not have enough time to cook their own food, so fast food is popular, which is very harmful. In this case, the chefs came up with an unusual way out – preparing a portion of the dish in a regular mug. Fast, tasty and original.
1. Limecake with coconut chips
Think baking is something complicated? You are mistaken, a delicious refreshing cupcake can be made in minutes.
Ingredients:
flour – 4 tbsp. spoons;
lime peel – 0.5 tsp;
baking powder – 0.5 tsp;
sugar – 4 tbsp. spoons;
coconut chips – 1 tsp;
coconut milk – 4 tbsp. spoons.
Cooking
Mix loose ingredients in a cup, add milk there and mix until smooth.
Add the chips and zest, mix and send the mug in the microwave for a minute, putting the power to the maximum. It is important that the top of the cake be dry.
2. Brown Pudding
Delicious and simple dessert will appeal to both adults and children. Cinnamon can be used to impart an unsurpassed alluring flavor.
Ingredients:
applesauce – 2 tbsp. spoons;
vegetable oil – 1 tbsp. spoon;
Fatty cream – 1 tbsp. spoon;
brown sugar – 2.5 tbsp. spoons;
flour – 1/4 cup + 1 tbsp. spoon;
Baking powder – 1/4 tsp;
a pinch of vanilla, salt and ground cinnamon.
Cooking
Beat all the ingredients well using a fork. It is important to get a homogeneous fluffy mass.
Cook pudding in the microwave for a minute at high power.
Ready dessert can be decorated with cream, for which whisk 1 tbsp. spoon cream cheese with 2 tbsp. spoons of powdered sugar and 1 teaspoon of milk.
3. Chocolate chip cookies
It is a mistake to believe that cookies can be prepared only on a baking sheet and the following recipe proves this. If desired, the composition can include various flavored spices or zest.
Ingredients:
butter – 1 tbsp. spoon;
sugar – 1 tbsp. spoon;
cane sugar – 1 tbsp. spoon;
1 yolk;
flour – 1/4 tbsp .;
chocolate chip cookies – 2 tbsp. spoons;
chocolate – 1 tbsp. spoon;
on a pinch of vanilla sugar and salt.
Cooking
Crush cookies and chocolate. Mix all ingredients to make a homogeneous mass.
Cook cookies for a minute at high power.
4. Fast granola
Another option for a delicious breakfast, which is suitable for people watching their weight. Such a dish in a mug will give a good charge of energy.
Ingredients:
honey – 1 tbsp. spoon;
water – 1 tbsp. spoon;
olive oil – 1 tbsp. spoon;
Hercules – 1/3 cent .;
nuts – 1 tbsp. spoon;
dried fruits – 1 tbsp. spoon;
a pinch of sea salt.
Cooking
Chop the nuts and chop the dried fruits.
Without mixing, put honey, water, oil, salt, oat-flakes and nuts in a mug. Put in a couple of minutes in the microwave (medium power), and then mix. It is important that no honey is left on the bottom.
Microwave still for a minute. During this time, the oatmeal should be golden.
It remains to add dried fruits, mix, cool a couple of minutes and you can enjoy a delicious breakfast.
5. Minestrone Vegetable Soup
Popular Italian soup, which is very useful, because in the composition – a large number of vegetables. In fact, you can make different first courses in a mug, as long as the recipe uses products that are cooked quickly. In the presented recipe, you can add green beans, zucchini, mushrooms, onions, boiled meat and so on.
Ingredients:
carrots – 0.5 pcs .;
celery stalk – 0.5 st. spoons;
sweet pepper – 0.5 tbsp. spoons;
Tomato – 0.5 tbsp. spoons;
quail egg – 1 pc .;
cheese and water.
Cooking
Cut the vegetables into cubes and place them in a mug so that 2-3 cm is left up to the edge. Fill them with water, which should completely cover the vegetables.
At full power, cook the soup in the microwave for 3-4 minutes.
Beat in the egg, mix gently and cook for another 2 minutes. Sprinkle with cheese on top.
6. Omelet with vegetables
Like to start your day with a lush omelet, then this recipe is for you. In addition to the presented filling, you can use other products, for example, slices of ham.
Ingredients:
eggs – 2 pcs .;
greens – 2 tbsp. spoons;
Bulgarian pepper – 2 tbsp. spoons;
Tomato – 1 tbsp. spoon;
cheese – 1 tbsp. spoon;
salt and pepper.
Cooking
To begin, the mug should be greased with vegetable oil. Vegetables should be cut into cubes and chopped greens.
In a bowl, beat the eggs and add all the prepared ingredients. Send the mug in the microwave for a minute.
Remove the mug and mix everything and cook for another couple of minutes until the eggs are fully cooked.